cross posted form my hello kitty Blog.
By now only a few on this earth has not heard of how a 7th grader, Lauren Rojas, has sent Hello Kitty Plush 93,000 feet up in the stratosphere as part of a science project.
Having looked at the video, she did an excellent job of presetting her experiment during the flight, the pictures are spectacular and hello kitty in her rocket is just so cute. The rocket parachuted back to earth 47 miles from the launch point, in a tree; a likely place for a kitty. Hello Kitty is safe and sound back on Earth. The video went viral and new report has been seen all over the world and on National TV.
Not to detract from Ms. Rojas feat, some in the media is reporting this is Hello Kitty's first trip into (or near space). That honor really should go to Melissa whose Hello Kitty has flown with The Expedition 9 Crew in 2004. I quote from part of that post.
"This is to certify that Hello Kitty accompanied the Expedition 9 Crew in their long duration space mission aboard the International Space Station. This item was flown for the wonderful Melissa (last name omitted for obvious reasons).
The Expedition 9 Crew was launched from Baikonur Cosmodrome, Kazakhstan on April 19, 2004, at 9:19 a.m., aboard the Russian Soyuz Spacecraft TMA-4, and return to Kazakhstan on October 24, 2004, at 6:35 a.m. aboard the Soyuz Spacecraft TMA-4."
I also thought Hello Kitty as Soyuz crew mascot aka Micro Gravity Indicator some time ago.
Still way to go Lauren for Hello Kitty first altitude Balloon mission.
As I thought of  Ms. Rojas feat,  I wonder if we furries can pull off the same thing, after all we do have a share of Science and tech geeks, not to mention a few ham radio enthusiast  Raising money for a Furry Near Space Imitative   seems plausible.
The again I am look  at my 26"  Hello Kitty Plush thinking it would be neat to launch her into the Stratosphere   using harness.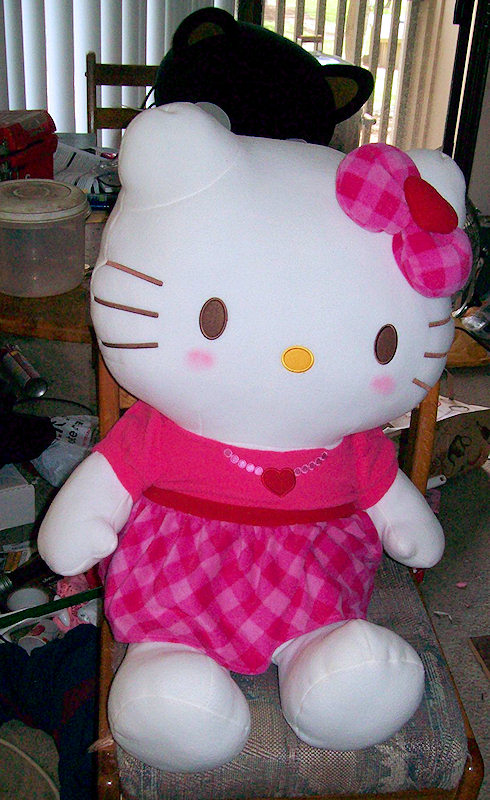 But they are a few problems, the largest being I confess that I grown fond of my Giant Plushies, have a strong attachment to them and could not risk losing one forever. There not may giant plushies made and quite difficult to replace if lost. My last one was stolen, so strong was the loss   I bought my plush above only for day after as a replacement. Common sense tells me I do not want to send up in a high altitude balloon anything I do not  want to risk losing. I would have to buy another plush for the purpose of the flight.
The tech geek in me as an exercise looks at other practical problems. First I never thought how    Hello Kitty's big head those off her center of gravity I could not use a sling or harness but I would have to build a frame with a counter balanced 2 foot long +  boon for the camera . At 3 pounds and eighth ounces Kitty would have to come under   FAR 101 (Kitty, frame, cameras electronics) and need two payload cut down and systems to deflate the balloon. The modifications I need  results added cost and complexity. I search around YouTube High Altitude Science and other launch report and it is clear to me one thing: keep it simple and keep under four ponds.
Another thing I wonder is how my Hello Kitty would react during decent (any high altitude balloon enthusiast   might want charm in the comments) Will the drag on her body case the payload decent to become unstable?  She would be in a duct tape space suit. Cost, complexity, and personally unwilling   make a 26" Hello Kitty trip plausible but not cost effective. My big Kitty can breath easier no space thip for her unless I get rich and book a trip on Spaceship 2. (I would take her in a heartbeat)
I would have scale down and use my smaller Hello Kitty plushies, perhaps a Build A Bear one. I would go as far as build a capsule if possible;  it would have a internal seat for Hell Kitty and would be water proof for water entry.
Right now while in debt this would not be  in the back burner  unless I get a lot of friends and training to do the mission right.
Full Report : Hello Kitty says hello to space, thanks to Antioch teen's science project
Update: Ms. Rojas has won an award and will be going to the Reginald Science fair.
Antioch teen's 'Hello Kitty rocket' wins at school science fair – Contra Costa Times
"ANTIOCH — The weather balloon experiment that sent a Hello Kitty toy almost 18 miles above the Earth is now an award-winning science project that is sending its creator to a regional competition."