For a change in pace I am leaving the world  of politics and talking about my other passion—food.
Recently I attended a little gather and decide to bring some sandwich wraps to a picnic; I have not provided cooking for an outside the home event for a while. One trap that leads to dinner party or potluck disasters is not being familiar with the dish before cooking it for company. Cooking shows, web pages, and magazines do not help by giving an illusion of preparation ease. The truth is cooking is more than following a recipe, it is a skill best learned by repetition.  The rule of cooking for company is I never use a recipe at a potluck or for company, until I have cooked the dish for myself twice. In that way, I am familiar with the dish and how well it stores before enjoying it with friends when I serve the dish at the next potluck.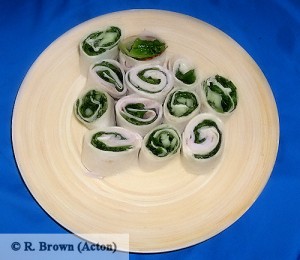 PS. The sandwich wraps we a rousing success and I have a nice way to prepare lunch for when I am on the road.