While setting up the PC to track APRS data especially from an aircraft (validate sensitivity and range), I notice this. I did not know Howl's Moving Castle had APRS. Actually it is a car and the guy forgot to configure his TNC.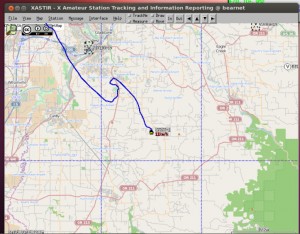 While unemployed and looking for a job, I been keeping myself busy by studding for my General / Extra class Ham radio exam and playing around with APRS with using the Raspberry Pi. For my non ham friends APRS stands for Automatic Packet Reporting System, it a system use to transit packet data over a local ham radio net. The data can be gps racking, weather or message traffic. The system uses ham radio and the internet.
I was debugging a with a problem with the Raspberry PI I can receive data but cannot transmit , using Raspberry PI, USB sound card direwolf as the Terminal Node Controller (TNC) connected to my Wosuxn hand held radio. I proved the Raspberry PI does not have the power to drive the USB sound card, by setting up the same configuration on old P4 Ubuntu Server. I need to find a different USB dongle for the Pi or use a dedicated TNC or the new Pi sound shield. I want to use the Raspberry Pi for High altitude Balloon APRS ground tracking stat or APRS on the chase vehicle. Dire-Wolf preformed very well, it more sensitive than using Soundmodem. Next, to see I can get and ping a satellite or the International Space Station with the setup and put a mag mount antenna in a cookie sheet for the ground plane on my balcony.
Richard
KG7CSS