CAN YOU HEAR US NOW!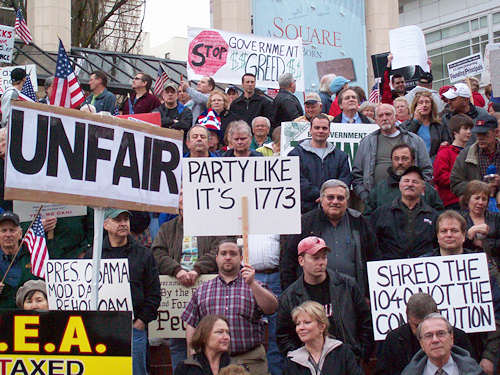 The place: Portland Oregon, Pioneer Courthouse Square.
April 15 2009 18:00
I must report that unlike previous protest by the usual "Peace" and anti-globalization anarchist protest, No protesters were justifiably tear gassed, no police officers assaulted and no Starbucks were trashed during the protest, we kept it rather civil. The only problem I had was the first speaker seems to be too much of the Ron Paul conspiracies type. I did not see any acorn nuts; I did see two 9/11 conspiracy nuts and perhaps a anti-war libertarian or two.   
I can not say how many were there, I say 800 to be on the low side. Beavereton had 1000 and in Salem  they had 5000.
a quick video