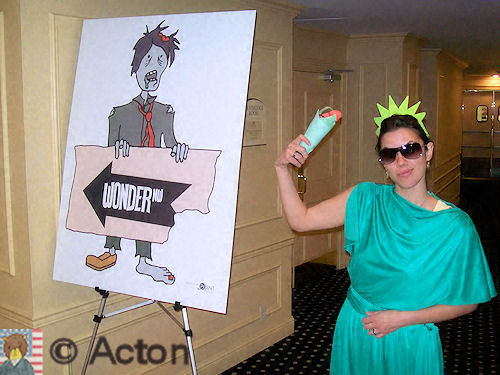 The Con Wonder Northwest
The Place Crowne Plaza Hotel Portland Oregon
The Date 14-15 May 2001 (I attended only the 15th)
Wonder North West is a new Comic and pop culture expo in Portland. Not seeing much on the first day I only attend Sunday a decision I grew to regret by not going Saturday. Not much to say about panes except an interesting one on Pirate lore. Other than that it was more of a relax-a-con for me. I ran to may I seen at Kumoricon and Mewcon. I took Big Kitty around for the ride and she was a hit. The funniest thing I won a floor prize of volume one of the Stand Graphic Novel ; I only know because others kept on telling me.
The Good
The price only $6.00 a day or 10.00 for the weekend. The bet con value I ever head of.
Quality of the floor prizes; Wonder NW had some serious sponsorship.
Pirates: unrestrained costuming awesomeness.
Very good quality Con Book and swag bag, for a 6.00 a day convention this impressed me.
The Bad
Not enough panels, then again I let it slide for being a first year small con
Not going Saturday.
Overall this one is a gem and has some serious potential as a multi-genre convection.